PIRALU Pre-Insulated duct system is an innovative technology for ACMV ductwork, the rigid polyisocyanurate panel is used as an alternative of traditional GI for operation such as fresh air, supply, return and exhaust air ductwork for ACMV system.
These panels feature a unique sandwich construction that is the result of injecting polyisocyanurate(PIR) as the core material laminated with aluminum facing on both sides. These panels are suitable for the construction of air distribution ducts in air-conditioning and heating systems.

The material's main characteristics are: superior thermal K value, a high level of rigidity and lightness, antimicrobial treatment surface, extremely easy to handle and install.
PIRALU Pre-Insulated Duct System is specially developed for use in residential, commercial and industrial units of ACMV duct system to satisfy the thermal, airflow, fire and easy to installation requirement.

PIRALU Pre-Insulated Ducting System is the first Singapore Green Building Council certified pre-insulated duct product, low VOC certified.

The Class 0 panel also conforms to all SCDF requirements and the relevant test reports are certified under TÜV SÜD PSB. PIRALU Pre-Insulated Duct System protects the surface from the spread of flames and limits the amount of heat released from the surface during a fire.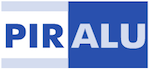 A rigid polyisocyanurate (PIR) foam panel coated on both sides with embossed aluminium. Given the thickness of the aluminium sheet (>50 µm), it is considered as a vapour barrier.
Closed polymer cell structure and the aluminium coating prevents water absorption.
Excellent thermal conductivity coefficient.
Easy to handle, cut and assemble.
Coefficient of thermal conductivity λi, (7d 10ºC) (W/mK)........................................0.022
Declared thermal conductivity coefficient λD 10ºC (W/mK).....................................0.023
Compressive strength (kPa) PIR ALU 35 [colour blue].........................................300 ±30
| | | |
| --- | --- | --- |
| PIRALU | Panel Thickness | Aluminium Type |
| PIRALU 20/35 | 20 mm | embossed |
| PIRALU 30/35 | 30 mm | embossed |
Standard Packing:
4000 x 1200 x 20 mm in packets of 10 units.

4000 x 1200 x 30 mm in packets of 8 units.
| | | | |
| --- | --- | --- | --- |
| | | | |
| F Profile (Aluminum) | H Profile (Aluminum) | U Profile (Aluminum) | Corner Piece |
| | | | |
| Tiger Connector | Silicone Sealant | Panel Glue | Aluminum Duct Tape |
| | | | |
| Panel Tool Box | | | |
Related product documents for download